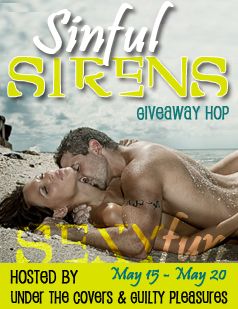 Welcome to the Sinful Siren Blog Hop, dedicated to all those naughty girls we love to love.  Thank you to Under the Covers and Guilty Pleasures for hosting!
I'm giving away one Ebook copy of Hidden in The Night, and one Ebook copy of Finding My Faith.  Click on the pictures for excerpts!
After being brutally attacked, Aiden, member of the Vampire Nation, wakes in a human hospital. He meets the navy blue eyes of his nurse, Holly, who says, "I know what you are, and the sun is going to be up in under an hour. I think I can get us out of here, but I need your help."
As a female vampire, Holly is a rarity in her race. She has hidden in plain sight from others in the Vampire Nation who want to to imprison her to help forward their devious plan of enslaving humans.
As Holly nurses Aiden back to health, he finds himself having feelings for her that he promised he would never allow again after the death of his mate, Natalie, ten years ago. A death that devastated him and left him heartbroken and angry. Aiden does his best to ignore those feelings he has for Holly, but the sexual tension between them escalates.
When Holly is kidnapped by those she has hid from for so long, Aiden finally realizes Holly is his key to ending his misery and he can't hide his love for her any longer. But will he be able to find her before she is terribly hurt…or worse?
Growing up in a small Northern Arizona town, Faith Cloudfoot's life was spent playing in the forests surrounding her house under the protective eyes of her father, and learning about the legends of her Native American heritage. Yearning for more out of her life, she moves to Phoenix, Arizona at the age of twenty-three where she is kidnapped and almost killed.
Rayner has a special ability, one that weighs on him like a curse. He can see spirits trapped in between life and their final resting place. Because he can't do much to help them, he studiously ignores them. He concentrates, instead, on working with his fellow warriors to right the wrongs caused by the evil criminals from his home planet.
 When Rayner sees Faith in her spirit form while investigating a lead in Phoenix, his attraction to her is immediate, yet he follows his own personal code and ignores her cry for attention. When he realizes that she may be a stepping stone to getting him home to his own universe, he engages Faith and begins to use her as a means to an end: going home.
As the attraction grows stronger, Rayner finds himself breaking all sorts of self-set rules, as well as the code of ethics set by him and his fellow warriors. When Faith nears death, Rayner realizes that he must do everything in his power to save her, because if he doesn't, he may just lose himself.
So pick your poison and enter, and thanks again for stopping by!